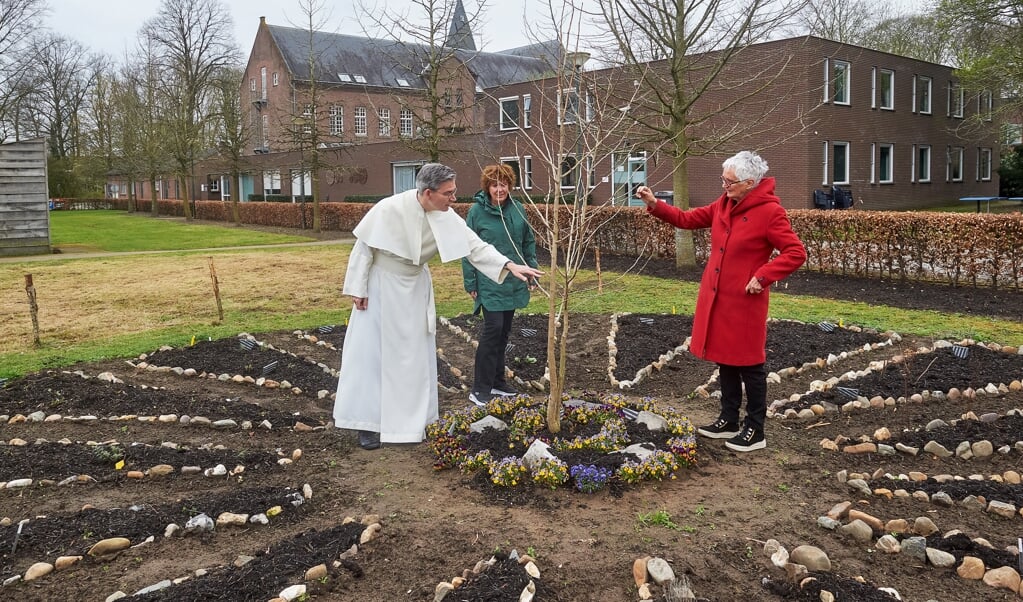 José van der Heijden (right) with Maria van Emmerik and Father Maarten van de Weijer at the Japanese walnut tree, which stands in the heart of the circular herb garden.
(image by assendelft photography / Jeroen Appels)
It is still early in the season, but the pink flowers of the lungwort are already peeping above the ground in the circular herb garden at Berne Abbey. José van der Heijden (70) digs up a plant and cherishes it in her hands. "A real covid herb," ​​she says. 'Lungwort contains silicic acid, which stimulates the body to make new tissue and to refresh it. But the saponins, tannins and mucilages also help with recovery after corona infection and pneumonia; they help to thin and cough up mucus.' Lungwort, in short, gives people air again.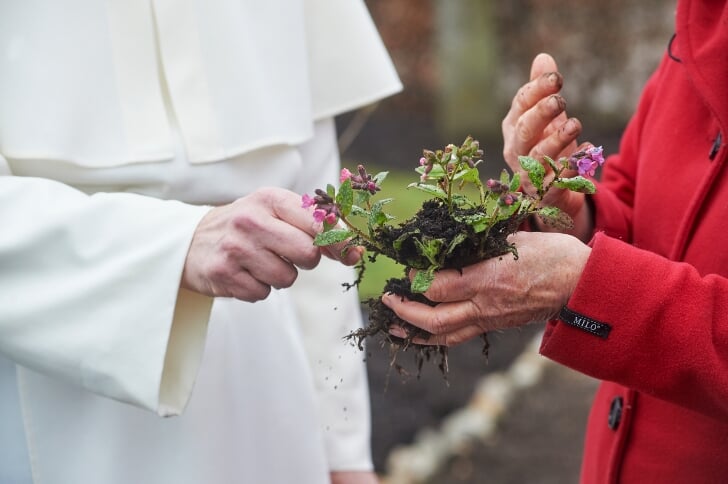 Lungwort gives people air again. 'A real covid herb', according to Van der Heijden. – image of assendelft photography / Jeroen Appels
Not that she wants to discuss other ways of combating corona with the lungwort in hand, she immediately adds. 'You shouldn't play that against each other. That would be a shame. Both are good for our health and let's get the most out of them.'
garden with a mission
As if a flying saucer has landed behind the ancient abbey complex, that is how the herb garden is located. The beds in which the herbs are placed are shaped like pie slices. At the heart of the garden is a Japanese walnut tree – the leaves are good for the heart and blood vessels. This is a garden with a mission: from June, volunteers will give tours here to anyone who wants it, says Van der Heijden. 'The more people know about the healing power of herbs, the more they can do with them.'
'Good to know: in nature grows everything that mankind considers weeds, but which is full of beneficial substances.'
A year ago, a group of volunteers from Heeswijk-Dinther laid out the garden at the initiative of Van der
Heijden. And where could that be better than here, diagonally behind the abbey of Heeswijk-Dinther?
Many monasteries have a herb garden, for cooking and health. Fathers used to bring herbal knowledge with them when they returned home after their mission in faraway places.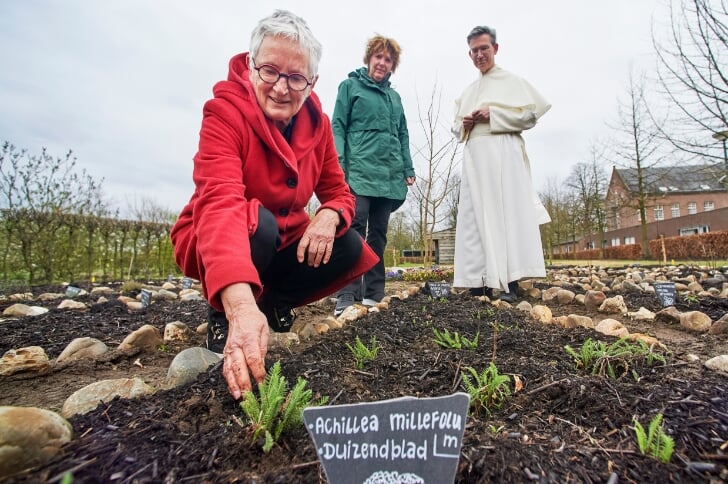 José van der Heijden with the still small plants yarrow. The herb is good for the blood vessels. – image of assendelft photography / Jeroen Appels
The Fathers of Berne can handle greenery: vegetables, flowers and herbs are grown on the spot where there was once a large orchard. And hop, not to forget – the abbey beer is served in the tasting room, just down the road. 
'I'll show you something,' says Father Maarten van de Weijer. In his white habit he scans the ground, looking for double-headed figwort. 'We call them hemorrhoid nodules', says the priest, who, as 'provisioner' of the abbey, is responsible for the financial affairs and maintenance of the site. The herb was sold door-to-door in the area in the past with a recipe for making tea – it would make hemorrhoids disappear like snow in the sun. 'Although there was also a GP here who was skeptical about this', Van de Weijer remarks with a smile. 'He said: 'Without those tubers it will pass in two weeks and with those tubers after fourteen days.' But where is that stuff now?'
to burn
At one of the pie slices, José van der Heijden points to the gray sign with 'ruta graveolens' written on it. 'Wine rue', she translates. 'That is an herb against tired eye muscles, among other things.' Wear gloves when picking, she warns. Grape rue catches so much sun that you can burn your hands if you touch the herb. You shouldn't put sage next to it, for example, because then the whole plant will burn.'
'When elderly people with dementia were restless, we put lavender oil on their earlobes and under the soles of their feet.'
When she's a bit on track, the facts about herbs tumble over each other: the Latin names, which family they belong to, the beneficial effects, in which soil they thrive, which ones you should definitely not put next to each other, and whether they keep sun or shade. She knows it herself: in her enthusiasm she can pour out so much information on people that they almost drown in it. 
Maria van Emmerik (66), who is being initiated into the secrets of medicinal herbs by her friend, can have a say in it. 'I am gradually learning to recognize the herbs and what you can do with them. And also which part of the plant you use for what. The root contains different substances than the leaf or flower.'
natural iodine
José van der Heijden grew up opposite the abbey and from an early age instilled a love for nature. After her working life as a nurse and social worker, she is now following a three-year herbal study at the age of seventy. One of her teachers is gardener and herbalist (herbal expert) Henk van der Staak from Schijndel, who helped design the herb garden. 
This year, 'host plants' will be planted in a large strip of land next to the circular garden, explains José. 'Plants we want to try out.' It definitely has verbascum, a yellow, mullein-like plant. 'That is good for the cavities,' says Van der Staak. 'And marigold, you can never have too much of that. It contains a natural iodine. If you have a bump or if you suffer from a cut or scrape, put marigold ointment on it and it will heal within a day. It also has an antiseptic effect, so that the wound cannot become infected. Very effective.' 
The marigold ointment and oil from Van der Staak are delicious, José knows. And they are remarkably easy to make yourself – the herbalist is giving away the recipe for free today (see box).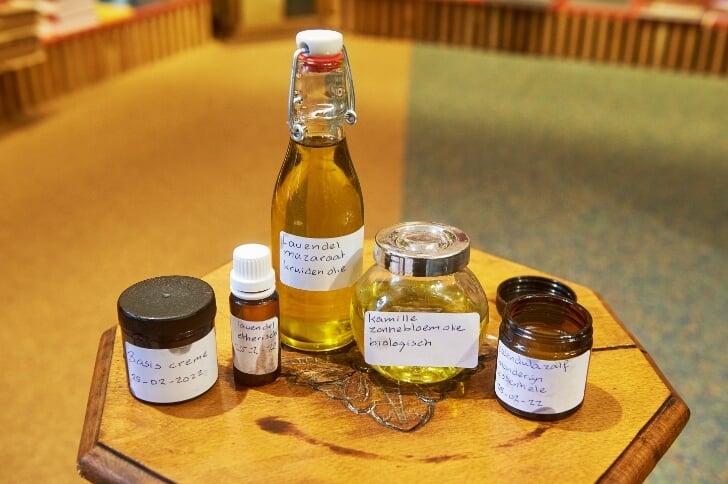 Homemade oil and ointment, with plant parts from the herb garden at the abbey. – image of assendelft photography / Jeroen Appels
Maria van Emmerik takes some jars and bottles with ointment and oil from a bag, made from what grows in the herb garden. 'It's wonderful that you can make it yourself. In the shop you buy very expensive stuff, this is free and pure nature.' She already noticed in her work in elderly care that such remedies really have an effect. 'When elderly people with dementia were restless, we put lavender oil on their earlobes and under the soles of their feet. That was very calming.'
Isn't that a bit floaty? The sober Maria shakes her head. "I'm a race realist." 'And I really don't do a vague training', José adds. 'I am careful about recommending herbs to people. Everyone has to make their own choice. But knowledge is important. The more people know about it, the better they can make their own choice.' 
Mary nods. 'Use the herbs as it feels right for you. I also always find it annoying when something is forced on me.'
She is getting more excited by the minute about what nature has to offer. Also for a simple cup of tea. 'I just pick mint from the garden, while you pay three or four euros for a cup of mint tea in the cafe,' says Maria. José praises lemon balm, 'a wonderfully mild herb and so good for humans. And did you know that you can also use the leaves of the raspberry and blackberry for tea or in a salad? The young leaves are also so healthy.'
But there are also species that you have to watch out for, warns herbalist Henk van der Staak. 
They can influence the effect of medicines or cause unpleasant side effects with prolonged use: gastrointestinal complaints, headache, dizziness or palpitations. 'And', says Van der Staak, 'there are many people who suffer from something and think: I'll take a herb and get rid of my ailment. But of course it doesn't work that way. If there is something wrong with you, you should first take a good look at your diet.'
weeds 
Good to know: in nature grows everything that mankind considers weeds, but which is full of beneficial substances. 'There are no such things as weeds', is therefore the motto of José and Maria. "Weeds are what you don't want in your garden." Even highly ranked weeds like the nettle are full of minerals and vitamins. 'Helps against rheumatism and purifies the blood', José knows. She regularly makes soup out of it, then adds garlic-without-garlic leaves and sprinkles daisies in it for decoration.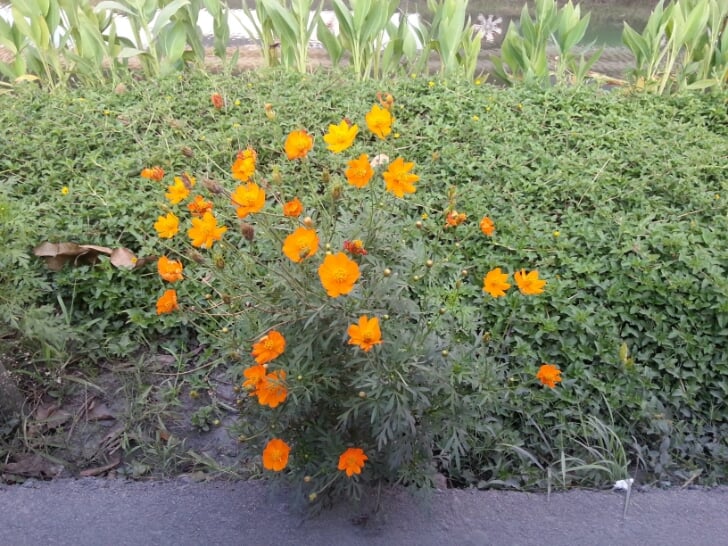 marigold – image istock
She does have a little tip: get the nettles from an area where dogs are not allowed to walk, otherwise the soup can have very special aromas. 
Nettle soup may sound a bit scary, but why would you make celeriac soup or spinach soup and not nettle soup?, Maria asks. "People think it's bitter, but it's not. It tastes a bit like spinach, but a bit spicier.' 
There are many more weeds that do not deserve that name. Dandelions? Blood cleansing and good for digestion. cow parsley? The seeds in the flower taste like anise, good for digestion. dog trot? Chew on sore gums. 'I sometimes put the flowers in the salad,' says José. 'Super tasty, it looks nice and it's healthy. What we buy in supplements grows in nature that way.'
marigold ointment and oil recipes
Herbalist Henk van der Staak makes his own marigold ointment and oil. Marigold ointment has a purifying and wound healing effect. You can use it on wounds and ulcers, hives, boils, eczema, abscesses and dry skin rashes. We see calendula (marigold) as the physical iodine to clean and disinfect wounds. It heals and soothes.' He has special instructions for picking the marigold petals: 'Only use the orange petals of a well-opened marigold. Pick before noon, when the flower is dry. That's when the flower has the most power.'
marigold ointment
ingredients
marigold petals, vaseline and possibly (sunflower) oil or wool grease
You will also need: (metal) bowl and pan, metal measuring cup, cheesecloth or fine sieve, jars to put the ointment in.
preparation
1. Place petroleum jelly in a bowl or metal pan and place in a larger pan of warm water. Heat the Vaseline in a bain-marie and add the fresh marigold petals. Let it steep for at least 24 hours. This does not have to be consecutive, it can be spread over a few days. Make sure that there is always enough water in the pan; the Vaseline should definitely not boil or boil dry.

2. At the end of this process, add some oil or wool grease if necessary to increase the spreadability or effect. Do not let it boil, stir well.

3. Strain off the ointment. This can be done with a cheesecloth or fine sieve. Use a metal measuring cup to prevent rapid cooling.

4. Pour the ointment into jars. Put the lid on loosely, so that the Vaseline can cool down.

Store in a cool and dark place for about two years. If the Vaseline discolours after a year, heat it up again and stir for half an hour. After cooling, the ointment is ready for use again.
marigold oil
ingredients
marigold petals and sunflower oil
You will also need: glass jar, kitchen paper or cloth, wooden spatula, thin cloth, bottles
preparation
1. Fill a glass jar at least three quarters full with marigold petals. Fill with sunflower oil. Place kitchen paper or a cloth over the pot against dust and insects.

2. Stir the oil once or twice a day with a wooden spatula for the first week, as the petals tend to rise above the oil.

3. Place the jar of oil in the sun and, if possible, in the moonlight as well. After three weeks, filter the oil with a thin cloth and pour into bottles.
The Taste of Healing: An Herb Garden for Kitchen and Health